Seven Kings resident hammered with court fine after illegally storing building materials on road
Wednesday 20 April 2022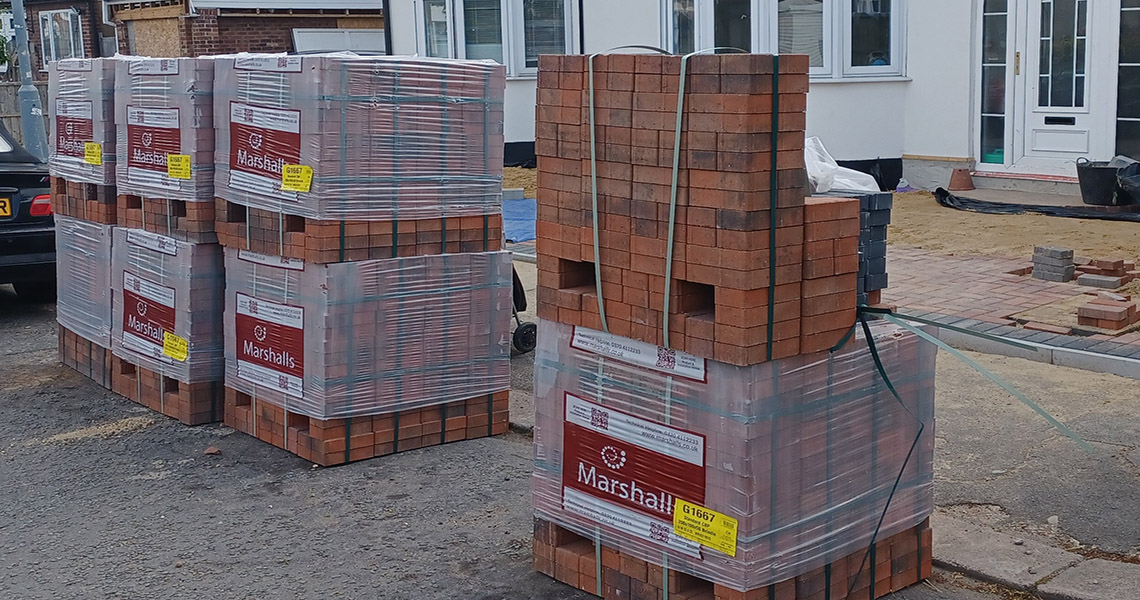 A Seven Kings householder who illegally left concrete blocks and other building materials on a public road, restricting pavement access and potentially endangering pedestrians, has been hammered with a court fine of over £1,000.
Redbridge Council led the prosecution against Eugene Frederick, from Nutfield Gardens, following the discovery of the items outside his home.  
During a routine patrol a Redbridge Enforcement Officer spotted large quantities of concrete building blocks and other building materials stacked outside a home in Nutfield Gardens, without any barriers or warning signs around it to protect road users and pedestrians from it.
The officer's investigation revealed the items belonged to Frederick, who lived in the house in front of which the materials were discovered. A further search by the officer revealed the building materials didn't have a permit to be on the road and were being stored illegally.
The 67-year-old was warned he would receive a fixed penalty notice if he didn't remove the items from the road and pavement.
Not only was he breaking the law, his actions also placed people in danger by restricting pavement access, especially for those walking with children or prams, wheelchair users and the visually impaired.
The officer later returned to find the items on the pavement had been removed but the concrete blocks still remained on the road. Despite the original warning Frederick failed to remove the concrete blocks and was issued with a total of four fixed penalty notices for the unauthorised deposit of materials on the highway, which remained unpaid.
He was subsequently summonsed to Barkingside Magistrates Court for four Highways Act offences where he pleaded not guilty, leading to a trial date at Romford Magistrates Court on 19 January. Frederick changed his plea two days before the trial and appeared in court pleading guilty to the four charges against him.
He was fined, as well as ordered to pay council and court costs, all totalling £1,314
Redbridge Cabinet Member for Environment and Civic Pride Cllr Jo Blackman, said: "Redbridge is our home and we all have a role to play in keeping our borough safe, clean and tidy. If you need to have sand, cement or any other building related material delivered to the roadside and stored on the public highway you must have a building and materials licence to ensure it is stored safely, and correctly in accordance with the law."
For more information on licences for skips, scaffolding and storing building materials on the road, or if you are unsure you need a licence, go to: https://www.redbridge.gov.uk/roads-and-pavements/skips-hoardings-and-scaffolding/
Alternatively, you can call Redbridge Council's Customer Contact Centre on 020 8554 5000.
Redbridge householders are also being reminded not to fall foul of the law by taking steps to ensure anyone hired to remove waste from their property, including building waste, is authorised to do so with the correct Waste Carriers Licence.
Failure to do so could end up in court-imposed costs and a criminal record if your waste is discovered fly-tipped and you cannot provide evidence of who you gave it to for removal or neglected to check if they had a valid Waste Carriers Licence.
If hiring a private contractor to remove household, garden, or construction waste remember to:
You can check using either their registration number, business name, or postcode, or call the Environment Agency on 03708 506 506.
Do research to find out if they are a genuine and reputable company or individual
Check where they are proposing to take your waste
Record the registration number of any vehicle removing waste from your home
Pay by cheque, card or bank transfer as payments can be traced if the waste is fly tipped. If they insist on cash refuse their service
Obtain a waste transfer note and a receipt for their service and keep it as proof.