Abandoned vehicle left on Redbridge Housing Land removed
Wednesday 11 May 2022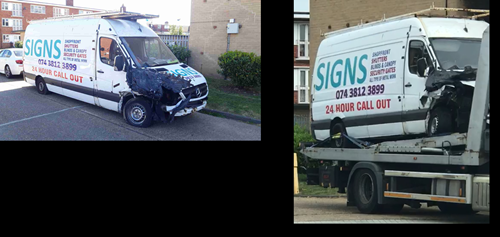 Neighbourhood Enforcement officers proactively patrol the neighbourhoods across all sectors of the borough. During one patrol an officer witnessed a large van parked in Mount Pleasant on Ilford Lane. The vehicle was long standing and was considered dangerous by the officer on scene. The council contractor was called to remove the vehicle. The vehicle was removed within hours of the owner being notified of its removal.
Abandoned vehicle guidelines
Abandoning a vehicle can result in a fine or prosecution. The list below will help you determine if a vehicle is abandoned. Please note this is not a guarantee.
has the vehicle been parked without moving a minimum of 4 weeks?
are there any flat tyres or removed wheels?
is the windscreen or any of the windows broken?
is the vehicle mouldy or rusty?
is there waste inside the vehicle?
Vehicles that are not classed as abandoned
if your neighbour has gone on holiday or you are in dispute with them
if parked across your driveway; this is known as an obstruction
Report an abandoned vehicle
We will ask you for details as listed below. If they are not provided we might not be able to carry out an inspection:
the exact location
registration number
make of the vehicle
colour
brief description of the state of the vehicle